Yosshi
A web-server for disulfide engineering
by bioinformatic analysis of diverse protein families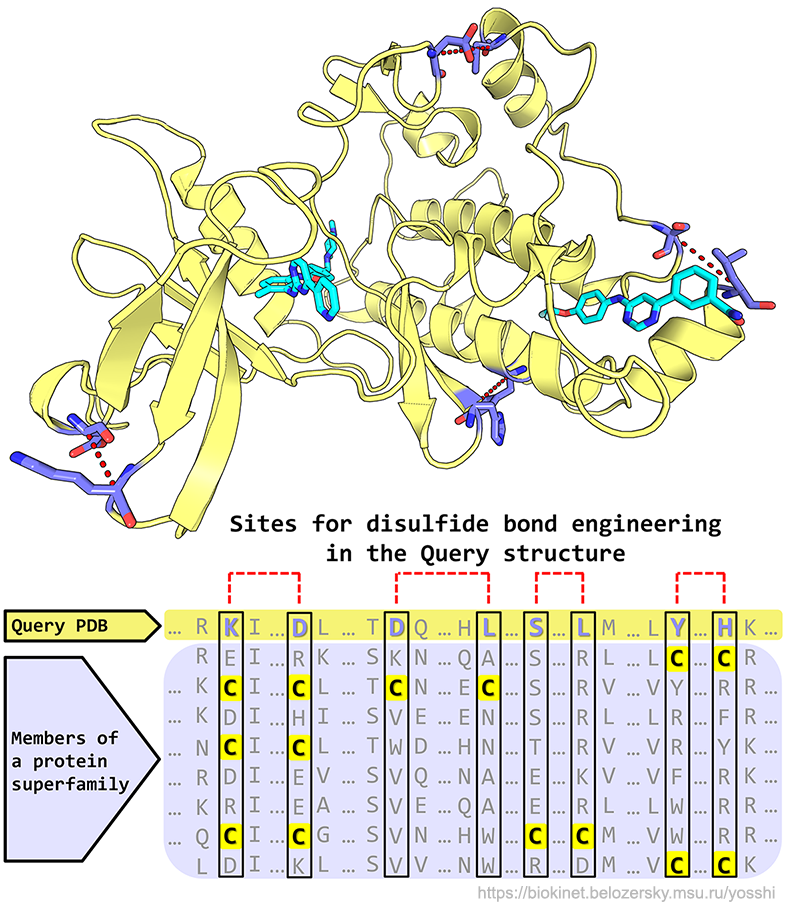 ---




... to systematically classify and study disulfide bonds in diverse protein families, and to assist at selecting hot-spots for disulfide engineering in the structure of your query protein


Version 1.0; December 3rd, 2018
---


Press the button to ask a question about using this server
---
Highlights:
The "YOur web-server for S-S bond HarvestIng" is a new highly automated on-line tool for a systematic homology-driven analysis and engineering of disulfide bonds that can be easily used by a general biologist at a daily laboratory routine;


The Yosshi facilitates a broader interpretation of disulfides not just as a factor of structural stability, but rather as a mechanism to implement diversity within a superfamily;


The key novelty of Yosshi is implementation of the bioinformatic analysis to search for pairs of cysteine residues in sequences of homologs followed by the 3D-motif analysis to evaluate whether introduction of the selected cysteines at corresponding positions in the user-submitted query protein can result in a formation of a disulfide bond, as outlined here;


The bioinformatic analysis is supported by the integrated Mustguseal web-server to construct large structure-guided sequence alignments of functionally diverse protein families;


The output of Yosshi is a detailed homology-based annotation of disulfides within a common structural fold of a superfamily. Disulfides conserved in larger groups of proteins are shown first suggesting an important role in a common function or property shared by these homologs;


The Yosshi+Mustguseal integrated web-based method provides an intuitive and easy-to-use interface to study the abundance of S-S bonds within a superfamily, compare disulfide connectivity in homologs with different properties, as well as to identify disulfide bridges present in homologs but not in the query protein that can be introduced to design its stability and functional properties.
---
Publication: Suplatov D.A., Timonina D.S., Sharapova Y.A., Švedas V.K. (2019) Yosshi: a web-server for disulfide engineering by bioinformatic analysis of diverse protein families. Nucleic Acids Res., 47(W1), W308–W314. DOI:10.1093/nar/gkz385
Conference: Suplatov D.A., Timonina D.S., Sharapova Y.A., Švedas V.K. (2019) Yosshi: the bioinformatic approach to protein disulfide engineering. MCCMB'2019, poster: [download]


---
Navigation:
---
Usability:
The Yosshi's input and output can be created, processed and studied entirely on-line via the web-interface. The only software required on the user side is an HTML5-compatible web-browser.


The Yosshi web-server is integrated with the Mustguseal web-server capable of automatically constructing large structure-guided sequence alignments of functionally diverse protein families that can include thousands of proteins basing on all available information about their structures and sequences in public databases. Press the button to automatically construct a large multiple alignment by Mustguseal based on the PDB structure of your query protein to be further processed by Yosshi.


The integration of Yosshi and Mustguseal web-based bioinformatic methods provides an out-of-the-box easy-to-use solution, first of its kind, to classify and study S-S bonds in protein superfamilies as well as to assist at selecting hot-spots for disulfide engineering in a user-submitted query protein based on a systematic analysis of disulfides naturally occurring in its homologs.


Press the button and then press the Demo mode button to request a demonstration of the Yosshi web-server.
---
| | |
| --- | --- |
| Dmitry Suplatov | |
---