Open-access Mustguseal platform for bioinformatic analysis in computational enzymology
---
Comparative analysis of homologous proteins in a functionally diverse superfamily is a valuable tool at studying structure-­function relationship, but represents a methodological challenge. We have developed an open-­access platform uniting original on-line methods to study the structure-­function relationship in proteins, to select the most promising hot-­spots for implementation of novel functions, improvement of stability and evolvability of useful proteins/enzymes, and to design of their selective modulators.
---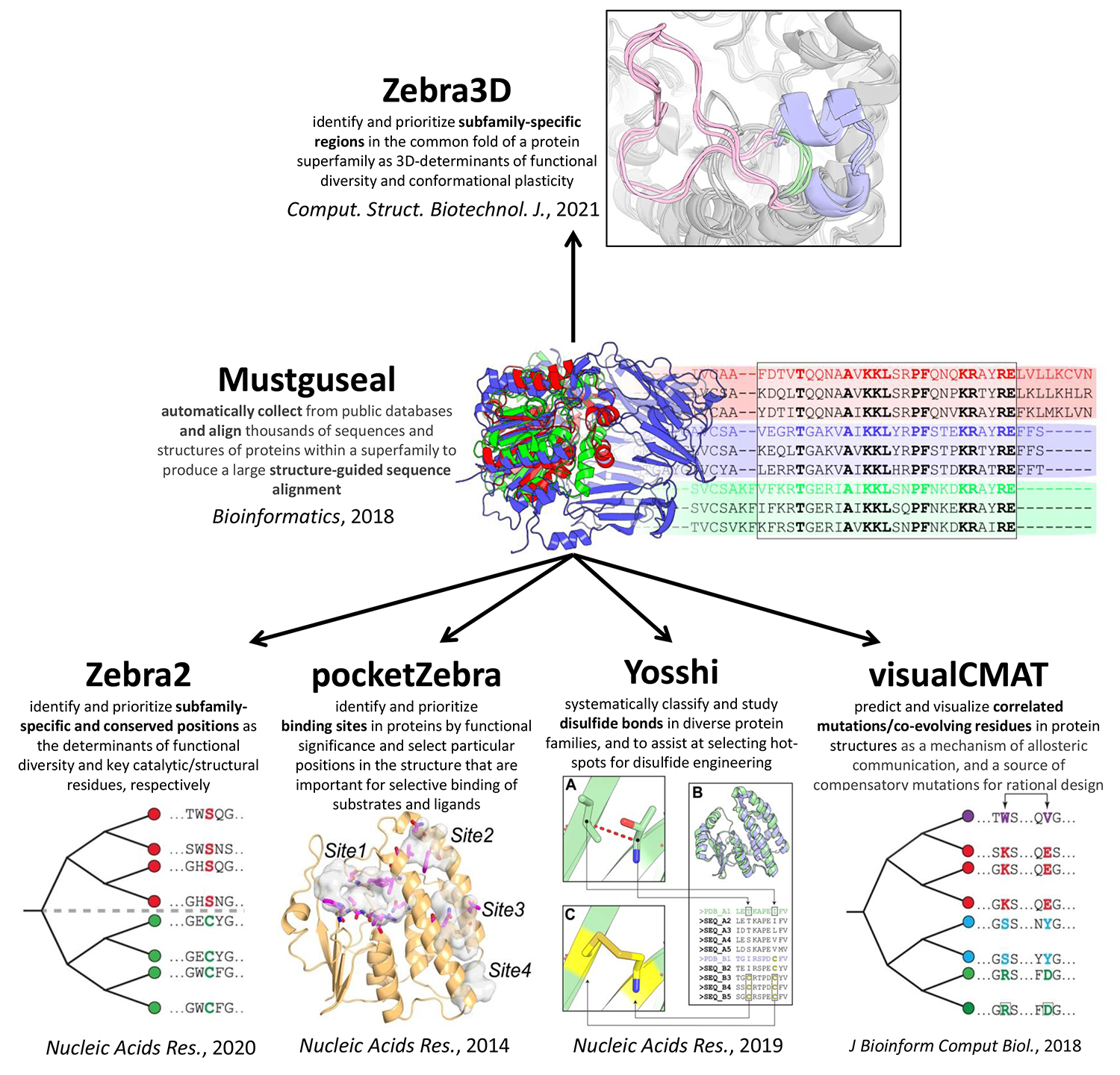 Integration of these bioinformatic web-tools provides an out-­of­-the­box easy­-to-­use solution, first of its kind, to systematically analyze all the available sequence and structural data related to a protein superfamily, thus promoting the value of bioinformatics for protein engineering and drug discovery.
---


Press the button to ask a question about using these servers
---
New! Practical guide: Suplatov D., Sharapova Y., Švedas V. (2021) Mustguseal and Sister Web-Methods: A Practical Guide to Bioinformatic Analysis of Protein Superfamilies. In: Katoh K. (eds) Multiple Sequence Alignment. Methods in Molecular Biology, vol 2231. Humana, New York, NY. DOI: 10.1007/978-1-0716-1036-7_12.
FEBS 2019 Congress Poster: D. Suplatov, Y. Sharapova, D. Timonina, E. Schmalhausen, K. Fesko, N. Popova, V. Muronets, V. Voevodin, V. Švedas (2019) Open­access Mustguseal platform for bioinformatic analysis in computational enzymology. FEBS Congress 2019, poster: [download]


FEBS 2019 Congress Talk: Sharapova Y., Suplatov D., Timonina D., Schmalhausen E., Fesko K., Muronets V., Voevodin V., Svedas V. (2019) Assessing protein flexibility in computational enzymology: conformational sampling or 3D-motif analysis? FEBS Congress 2019, abstract: [view]


A brief overview of the Mustguseal platform:
This work is being funded by the Russian Foundation for Basic Research [#18-­29-­13060] and carried out using the HPC computing resources at the Lomonosov Moscow State University supported by the project RFMEFI62117X0011.